Increasing Business Success With Technology
Perfect Blend
Our software makes a perfect blend of hardware and software to work in symphony.
Development Platform
We use the latest and the most reliable software platform for building our applications.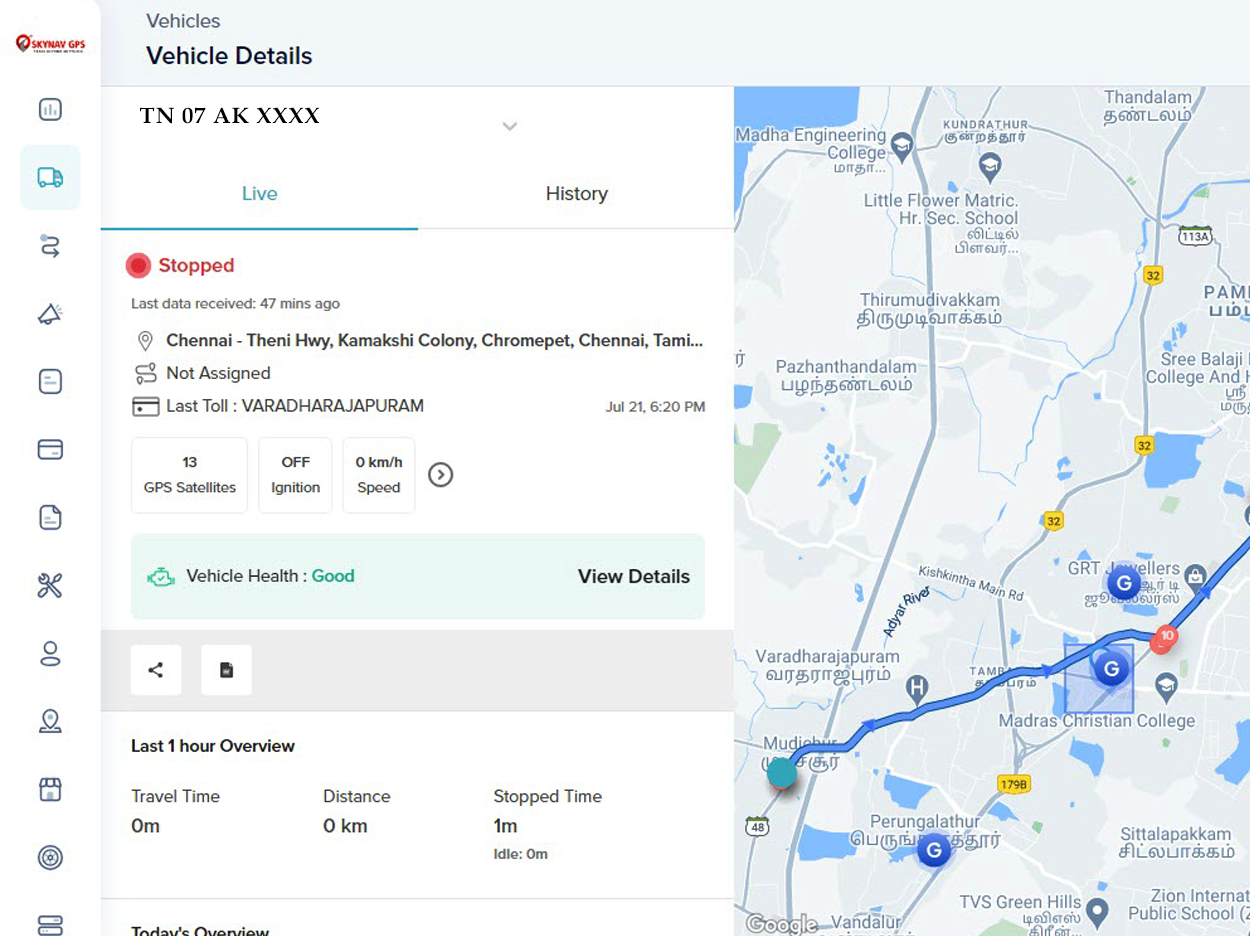 Quality Tracking
Our Web and Mobile based vehicle tracking and management solution brings you the most advanced with essential features to our customers. Our end-to-end solutions with integrations like vehicle tracking, fastag management, vehicle maintenance management and vehicle insurance makes us the best and unique GPS tracking solution in the market.
Build Quality
Our Tracking Solution Features
Many features are available in our software, so we have highlighted some of the core features to get an idea.
User Friendly Interface
Our tracking solution offers the best user-friendly interface that enables our users to easily understand the software.
Live Vehicle Tracking
Live tracking enables to track the vehicle with live movements on the map. This allows bird's eye view of all vehicles.
Running Vehicle Status
In Dashboard get the current running vehicle status for all the GPS enabled vehicles available in the software.
Stop Hours
Quickly get stop hours reports for any vehicle in the software. This allows users to improve the proper utilization of their fleet.
Play Back
See playback between you and your preferred dates and make sure that your vehicle has traveled the panned route or not.
Realtime Distance
With realtime distance calculation users can get vehicles traveled distance with 98% accuracy when compared to the odometer.
Vehicle Stop/Start
This feature allows users to start or stop the vehicle engine that safeguards the vehicle during a theft.
Stoppage Alert
Get instant SMS and Email alerts when the vehicle is stopped in any location for more than the specified value.
Assign and Manage Trips
Quickly assign trips for all your vehicles and ensure all your trips are completed on time and every time.
70+ Types of Reports*
Download 70+ types of reports for any vehicle and get vehicle insights.(Reports are based on device and connection provided)
Multiple Geo-Fence
Assign multiple Geo-Fence for any vehicle at any place and get instant SMS and Email alerts for In / Out events.
Ignition On/Off Alerts
Get instant SMS and Email alerts when the vehicle ignition is turned ON or turned Off in any of the location.
Multi User Option
Create multiple users and assign vehicles for the users. Most useful for attached vehicles owners or stake holders.
90 Days Data Backup
We provide 90 days of data backup for all reports. So users can get reports even under the critical scenario.
Vehicle Driver Assign
Add Driver profile and validate driver license no. Assign the added drivers to any vehicle to manage the vehicle-driver profile.
OverSpeed Alert
Get instant SMS and Email alerts when vehicle speed exceeds the overspeed set value. Monitor driver behaviour using this feature.
Multi Language Support
We support multiple languages in our platform such as english, Tamil, Hindi, Telugu, etc. So users can easily adopt the software in multi languages.
Vehicle Location Sharing
Share the live location of the vehicle through email or mobile. Useful for creating temporary tracking links for parents or passengers.
Find Nearest Vehicle
Find the nearest vehicle based on location search and assign a trip for vehicles that are not on a trip. Improves vehicle utilization.
Vehicle Expenses Management
Manage all your vehicle expenses on our platform. This feature allows users to manage the cost.
Movement Alert
Get instant SMS and email alerts when vehicle moves from a specific location after it is being parked by the owner.
Current Fuel Rates*
Get current fuel rates like diesel and petrol-based on the Indian states. (Rates may differ in some states for diesel and petrol can vary frequently due to changes)
Vehicle Documents Management
Manage all your vehicle documents such as RC copy, Vehicle Insurance, Pollution certificate, etc. in our platform.
Fastag Activation
Our software solution comes with Fastag integration that allows us to activate Fastag for vehicles with and without GPS in our software solution is a valuable feature.
SMS and Email Alerts
Subscribe to multiple SMS and Email alerts with multiple Mobile Nos and Email Ids. Get instant SMS and email alerts.
Web Platform
Users can access the complete features of the software solution through our web platform with intuitive UI.
Mobile App
Our Mobile application is easy to access and the main features of the software.Our app is available in the playstore.