Solutions That Are Still Counting
10,000 +
GPS devices are deployed and tracked using our fleet management software across India.
1000+
Software features that are being integrated continuously for getting better insights.
95%
The business has been benefited from their fleet management after deploying GPS Fleet management software.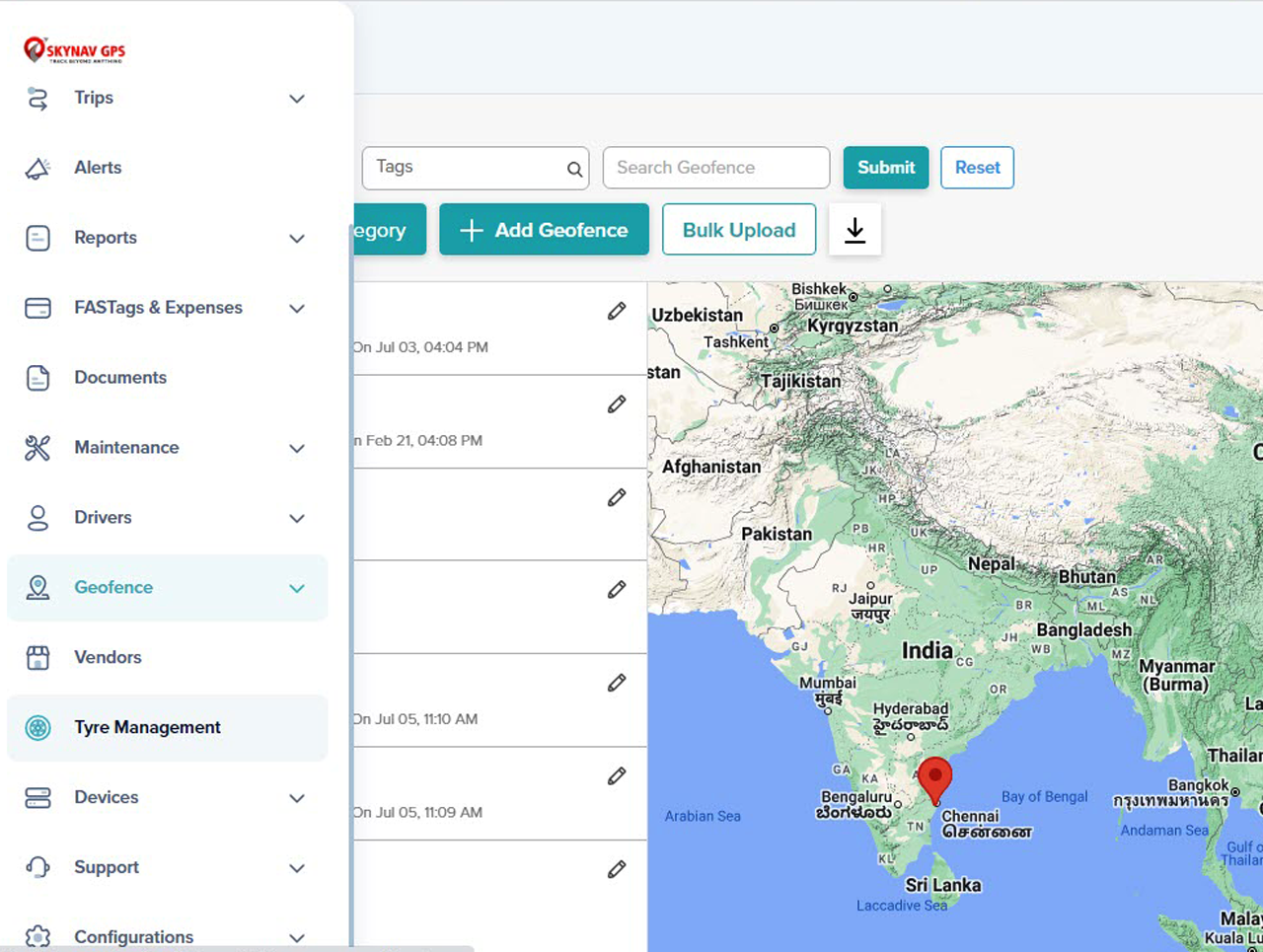 Advanced Features
Feature Rich GPS Software for providing detailed insights
Perfect Hardware

Choose from a range of GPS tracker devices we have, based on the vehicle, and based on the business choose the GPS hardware.

Unique Software

User-Friendly UI design help business adopt our GPS software, which in turn provides valuable insights
Process
Here's how our process work.
Step 1

Business Model

Understanding the client's business modal and its operations

Step 2

Hardware

Choosing the right GPS tracker for the business to suit its operations flow

Step 3

Deploying

Installing and commissioning the GPS tracker in the Fleet that needs to be monitored

Step 4

Software

Software deployment and guidelines for using our software platform
Testimonial
What Clients Say
What our clients are saying about our tracking solution.
I have been using the SkyNav GPS tracking system to track my trucks loaded with cargo. It is crucial for us to deliver our cargo on time, but with the help of SkyNav GPS we are able to deliver our cargo on time without any hurdles. I definitely recommend this product.
SkyNav GPS tracking is loaded with many unique features that are not available in the market. I personally like the vehicle maintenance reminders which helps me to service my vehicles on time.Regular maintenance not only helps prevent potential breakdowns and costly repairs.
I am an IT Employee and I use SkyNav GPS for my Bike. I recommend Ultra GPS for bike users since it has battery drain protection that prevents bike battery from drain when parked for a longer time. Also I get frequent feature updates which are nice. Good GPS Tracker.
Clients
Our Happy Clients
Our services to all our clients have bought meaningful value to their businesses.
Cosmopolitan Club

Tamil Milk

Shaya Polymers

GK Dairy

ICDS

Star Industries

Yoe Yoe Electronics

Vibgyor

Indian Railways

HP GAS

Vicky Paint Brush

SUGUNA FOODS

SSNSL

R-TRIX

VRT Logistics

Amazing wits

Arun Ice Cream

Dynaspede

Priyam Industries

Everest Logistics

Hecs group

Kaira groups

One Rouf

Eucare pharm

Sunbeam

Laurel school

Efco

Daily Fresh

Ugo

Zion School